In this post, we review the most common species of bats found in Illinois.
If you need bat removal services from your Chicagoland home, please call us at (847) 464-1861
Bats are found throughout the United States and all of North America. They are actually the second largest order of mammals and comprise about 20% of all mammal species in the world. There are over 1,200 species of bats worldwide.
The most bat-heavy area of the state is in the southern area of Illinois, near the Mississippi and Illinois rivers.
Some bats hibernate in Illinois, while others migrate to warmer states.
How many types of bats are found in Illinois?
There are 12 different species of bats that are commonly found in Illinois.
Don't be alarmed; all of the bats who call Illinois home are insectivorous, which means they only hunt insects.
The bat species that are most commonly found nesting in homes, attics and structures are the Little Brown Bat ( Myotis Lucifugus ) and Big Brown Bat (Eptesicus Fuscus ).
Related: How to Get Bats Out of the House
Types of Illinois Bats
Little Brown Bat
Big Brown Bat
Southeastern Bat
Indiana Bat
Eastern Pipistrelle
Northern Long-Eared Myotis
Gray Bat
Silver-Haired Bat
Eastern Red Bat
Hoary Bat
Rafinesque's Big-Eared Bat
Evening Bat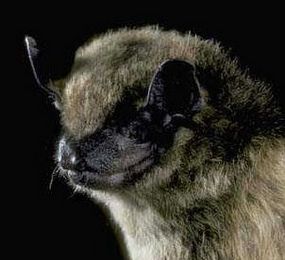 Big Brown Bat – This bat is medium sized with an 11 to 13-inch wingspan. They are insectivorous and eat insects active at night such as moths, mosquitoes, and beetles. These bats are commonly found all over the United States and live over 10 years. Big brown bats can fly up to 40 mph!
Eastern Red Bat – This medium-sized bat is known for its red or chestnut colored fur. They are commonly found among branches of hardwood trees. The eastern red bat forages for food in open spaces.
Evening Bat – This small species, weighing between 6 and 14 g. They are very commonly found roosting in tree cavities. These bats are also occasionally found in man-made structures. They feed heavily on beetles, as well as other nighttime insects.
Gray Bat – These bats are cave-dependent and rely on caves, as opposed to other structures like trees or buildings. Disturbance in caves can be extremely detrimental to their population. They were once considered endangered in the late 70s. Through conservation efforts, the population has restored.
Hoary Bat – This bat has unique coloring, which is dark at the roots and white at the tips. They are a larger species of bat with a wingspan of 15.5 inches. Hoary bats are rarely found in urban settings.
Indiana Bat – These bats tend to live in hardwood forests, but can be found in agricultural areas and fields. They are considered endangered and it is estimated that over 50% of their population has depleted over the past decade. They are sometimes confused for the little brown bat.
Little Brown Bat – This bat is one of the most commonly found in America. They prefer to roost near water sources and are found in caves, buildings, trees, natural hollows, and woodpiles. Their survival is currently highly threatened due to white-nose syndrome.
Northern Long-Eared Bat – These bats are known for their relatively long ears. They also have a longer tail than other Myotis bats. This species tends to live in boreal forests. In the fall, these bats migrate to hibernate.
Rafinesque's Big-Eared Bat – This bat is sometimes known as the southeastern big-eared bat. They have inch long ears and a wingspan of 10-12 inches. Moths make up 90% of their diet. They can be found in the south and eastern sides of Illinois in abandoned buildings, under bridges, in wells, in caves, and trees.
Silver-Haired Bat – This medium-sized bat is mostly black in color, though their fur is white tipped. They roost in tree cavities and bark crevices. Their coloring makes them difficult to spot while roosting. This species prefers to eat moths but will eat spiders as well.
Southeastern Bat – This bat has a wingspan of 9 to 11 inches. Their fur ranges in color from gray to orangish-brown. They like to hunt and feed over water. The Southeastern bat sometimes roosts with Rafinesque's big-eared bats. They can be found in southern Illinois.
Tri-Colored Bat – Formerly known as the eastern pipistrelle, the tri-colored bat is known for its interesting fur color. Their fur is brown at the tips, yellow in the middle, and black at the root. They are known as one of the smallest bats in North America, only weighing 4 to 10 g. They live about 10 to 15 years.
Bat Habitats
Most bats in Illinois roost in trees, caves, mines, rock crevices, and sometimes even under bridges when a cave isn't available.
There are four species of bats in Illinois that have been known to take up residence in buildings or dwellings, including residential homes. Since there is not an abundance of insects during the fall and winter, most bats find a warmer climate or hibernate.
Most bats are either colonial or solitary. Colonial bats live together in colonies and solitary bats live as is suggested: alone.
Related: Bats in Attic During Winter
Bat Reproduction
Bats are mammals so their babies (called pups) are born alive (not hatched as some may think) and then nursed. Most females give birth to one or two pups per year, typically in May or June.
Bats do not build nests. When pups are born, they climb onto their mothers and hold on to them, except for when the mother has to hunt. Pups can usually fly on their own at about three weeks of age.
Bat Droppings
Bat droppings, called guano, can be easy to spot if you know what you are looking for. To the untrained eye, bat and mouse droppings may look similar, but they really aren't.
Guano is shiny and brittle due to the consumption of insects. You will usually find piles of guano underneath bat roosts.
Related: Diseases in Bat Species
Little Brown Bat Population Decline
Recently, there has been a drastic decline in the population of the little brown bat. In fact, the decline is so severe, the little brown bat may soon find itself on the federal endangered species list.
The decline in population is due to an affliction known as White Noise Syndrome. White Noise Syndrome, a white fungus that grows in the nose of and on the muzzle, tail, and wings of a bat during hibernation, causes the bats to lose their fat reserves, which they desperately need during winter hibernation. Essentially, White Noise Syndrome causes bats to starve to death.
The cause of White Noise Syndrome is still unknown, and scientists and wildlife experts at both the state and federal level are continuing to monitor the situation.
When it comes to bat removal it is very important to contact the right animal removal to safely and humanely remove bats.
Bat Species in Illinois
was last modified:
February 15th, 2019
by